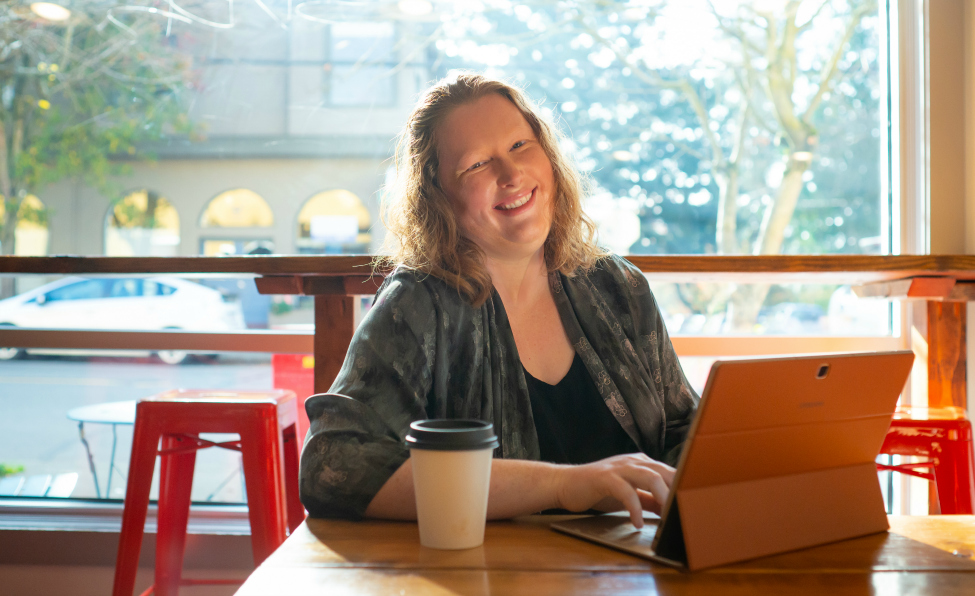 This is the story of how one unicorn-obsessed girl became a children's writer.
It all started with my beloved stuffed unicorn, Henrietta. (Every would-be heroine needs a wise old mentor.) When my sister and I were little, and we were supposed to be asleep, I used to tell her stories in the dark: epic tales of Henrietta's unicorn ancestors and their heroic doings long ago.
Then, around the time of my ninth birthday, I came upon a dusty old copy of a book called The Magic of Thinking Big. Before I even finished reading it, I had an audacious goal. I was going to write a whole book about the unicorns.
After two years, I had my first completed manuscript, eighty pages written in pencil into a spiral-bound notebook with the cover fallen off. There were quests, magic spells, love affairs, betrayals, tragic deaths, and convenient suspensions of the laws of physics. I still have that story to smile (and cringe) over. And I still have Henrietta too— floppy, dingy, and very much Velveteen-Rabbit-Real.
I took a long hiatus from writing about magical things, but I circled back in the end, and my space fairies + dragon pirates inform me I won't escape them again. I'm happily at work on my current children's writing projects.
I'm still fascinated by creative goals and how people make them happen, too. I'm not currently coaching clients, but I love sharing ideas about playful productivity + the creative life on my blog.
So that's me… writing + parenting here in Seattle. With a ukulele kicking around somewhere nearby and lots of coffee at my elbow. I hope you stick around + let me get to know you, too.
Wishing you joy,



Five things about me:
1. My favorite food in the world is a slice of whole wheat sourdough bread that I baked myself, slathered in butter.
2. I am in love with my ukulele… and just okay-ish at playing it… and that is fine with me. The simple chords lift me up so I can sing from the heart. And when I sing like that, I feel at one with all that's right in the world.
3. My devotion to the coffee bean is deep and abiding.
4. My children are, of course, the delight of my heart… and they remind me of what matters most. Plus, they can always be relied upon to keep things interesting.
5. I believe in laughing with my problems, whenever I possibly can. It doesn't solve everything, but it can help: finding glints of humor in odd places opens me to possibility.
Join my e-letter for playful productivity tips, whimsical parenting wisdom and missives from the space fairy kids